By PURPLELEC |
26
August 2023 |
0
Comments
Best Thunderbolt 4 hub for TB4 ports - Kensington SD5700T Thunderbolt 4 Docking Station
  The Kensington SD5700T Thunderbolt 4 Docking Station is a full docking station with 11 ports, including the latest Thunderbolt 4 and USB4 connectivity standards.
  Connect it to your laptop to add this bunch of fast ports for a full desktop experience.
  Choosing a docking station that boasts the latest Thunderbolt 4 connectivity standard is a wise choice. It features the latest and fastest 40Gbps bandwidth plus smart device daisy-chaining and super-fast storage connectivity. It also offers Intel VT-d DMA device protection that you don't get with all older connectivity standards.
  Significantly, it is backwards compatible with Thunderbolt 3 and USB-C, so works with older computers as well as the newest, which gives you a level of future-proofing you won't get from Thunderbolt 3 docking stations or USB-C docks.
  • One upstream Thunderbolt 4 port (40Gbps, 90W)
  • Three Thunderbolt 4 ports (40Gbps, 15W)
  • Three USB-A ports (10Gbps, 4.5W)
  • One USB-A port (480MBps, 7.5W)
  • Gigabit Ethernet
  • UHS-II SD Card reader (320MBps)
  • 3.5mm audio jack
  • 180W power supply
  The Kensington SD5700T Thunderbolt 4 Docking Station has one upstream Thunderbolt 4/USB4 port to connect to your computer, and three downstream Thunderbolt 4/USB4 ports to connect other devices, including external displays.
  These are rated at Thunderbolt 4's 40Gbps and can charge devices at 15W each. The upstream port can charge a connected laptop at up to 90W, which is enough for most large laptops.
  You can connect displays directly if the monitors have a USB-C connection. If not, you'll require either a USB-C-to-HDMI or USB-C-to-DisplayPort adapter (not included) to connect to the Thunderbolt 4 ports.
  The SD5700T will support two 4K displays at 60Hz, or a single 8K monitor at 30Hz. Note that Apple's original M1 MacBooks support only one external display – later M1 Pro and M1 Max support multiple displays – although there are third-party software and hardware workarounds that allow M1 Macs to connect to more than one external display.
  There are three 10Gbps USB-A 3.2 Gen 2 ports that can charge devices at 4.5W – some docks' USB-A ports, such as the Razer Thunderbolt 4 Choma dock, can handle 7.5W, so this was something of a surprise and maybe one of the dock's few negative points.
  On the front is a weaker (for data-transfer) USB 2.0 port, which instead excels at fast 7.5W charging.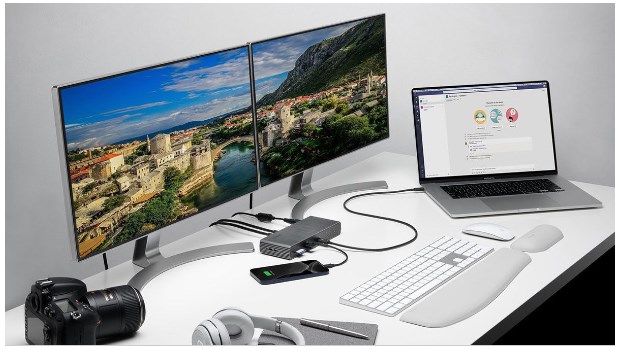 The external power supply can provide up to 180W of power for laptop passthrough charging (90W) and connected devices, which is the most powerful TB4 dock supply we've tested.
  Gigabit Ethernet means you can swerve weak Wi-Fi and connect for fast and stable wired Internet access.
  On the front, alongside the upstream TB4 port and fast-charge USB-A port, is a fast SD Card Reader (UHS-II, 320MBps) for portable storage, and a combo 3.5mm audio jack.
  We also love the lights that show power and connectivity status, plus the On/Off button that will relieve strain on your connected laptop's battery.
Leave a Reply
Your email address will not be published.Required fields are marked. *