By PURPLELEC |
28
August 2023 |
0
Comments
Satechi Thunderbolt 4 Multimedia Pro Dock
  This Thunderbolt 4 docking station differs from most others reviewed here in one very specific way: it lacks any downstream Thunderbolt ports. This may strike you as crazy, but there's a very good reason for the missing TB4 ports—it's built for multiple-screen setups using both HDMI and DisplayPort rather than Thunderbolt/USB-C monitor connections, and can handle up to four external displays (Windows only).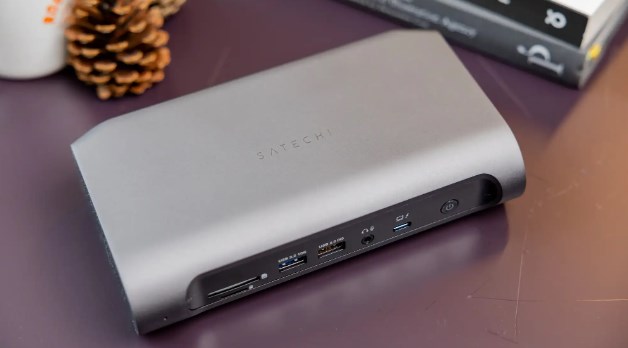 Windows users with Thunderbolt 4 and many USB4 laptops can connect up to four 4K (3840×2160) 60Hz displays using this dock, mixing the display connectors as they see fit.
  Windows and Mac users can connect a single display at 8K (7680-x-4320) at 30Hz.
  MacBook Pro (M1/M2 Pro and M1/M2 Max) users and owners of less advanced Windows laptops, on the other hand, are limited to at most two 4K 60Hz displays. And plain M1 and M2 Macs are limited to just one external display, so this is not the dock you are looking for if you own a Mac.
  The Satechi Thunderbolt 4 Multimedia Pro Dock looks almost identical to Plugable's TBT4-UDZ reviewed below, but its DisplayPorts are the superior 1.4 standard rather than 1.2 and HDMI 2.1 rather than 2.0.
  The other 11 ports include super-fast 2.5Gb Ethernet, fast SD, audio and seven USB connectors, so it is specced out at the top end, although we would have preferred more USB-C ports than USB-A.
  One upstream Thunderbolt 4 port (40Gbps, 96W)
  Two DisplayPort 1.4 video ports
  Two HDMI 2.1 video ports
  Three USB-A ports (10Gbps, 5.5W)
  Two USB-A ports (5Gbps, 5.5W)
  One USB-A ports (480MBbps, 7.5W)
  One USB-C port (10Gbps, 7.5W)
  2.5 Gigabit Ethernet
  UHS-II SD and microSD card readers (312MBps)
  3.5mm combo audio jack (front)
  135W power supply
Leave a Reply
Your email address will not be published.Required fields are marked. *