By PURPLELEC |
22
August 2023 |
0
Comments
Best HDMI Thunderbolt 4 dock - Sonnet Echo 20 Thunderbolt 4 SuperDock
  The Sonnet Echo 20 SuperDock justifies its "Super" name by having the most ports of any Thunderbolt 4 dock we've tested, including something missing from most others.
  It matches the excellent Caldigit TS4 on port speed with 10Gbps US-A and USB-C, UHS-II SD card reader and 2.5Gb Ethernet alongside the two downstream Thunderbolt 4 ports— differing mainly by its choice of the more popular HDMI video port compared to the TS4's DisplayPort.
  Where once DisplayPort 1.4 was superior to HDMI, HDMI 2.1, as seen here, is as powerful if not more so than the top DisplayPort.
  What makes the Echo 20 extra special, I mean Super, is its built-in SSD enclosure that allows you to add up to 8TB of internal storage via your choice of M.2 NVMe (the SSD itself is included with the dock). If you need extra storage for your laptop, this is a great feature, and is much cheaper than configuring the laptop with such a large capacity at purchase.
  Of course, the storage doesn't move with you when you're uncoupled from the dock, but it's useful for off-laptop backups and archiving when the laptop's internal storage is limited.
  If you want more portable storage, you can use the SD card reader. The TS4 does win here with both SD and MicroSD readers but most MicroSD cards come with an SD adapter so the Echo 20's lack of the smallest format matters little.
  If you need to keep all your connected devices powered up at the same time as your laptop, the Echo 20's 150W power supply should suffice but is nowhere near the TS4's mighty 230W supply.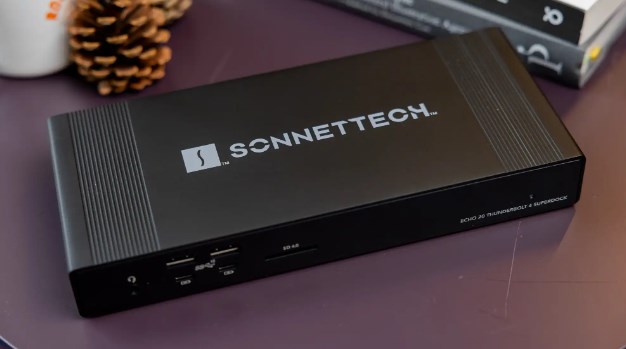 One upstream Thunderbolt 4 port (40Gbps, 100W)
  Two downstream Thunderbolt 4 ports (40Gbps, 15W)
  One HDMI 2.1 video port
  Four USB-A ports (10Gbps, 7.5W)
  Four USB-C ports (10Gbps, 7.5W)
  Internal M.2 NVMe SSD slot
  2.5 Gigabit Ethernet
  UHS-II SD card reader (312MBps)
  3.5mm combo audio jack (front)
  3.5mm microphone jack (back)
  Two (right and left channels) line out RCA jacks (back)
  150W power supply
Leave a Reply
Your email address will not be published.Required fields are marked. *