By PURPLELEC |
10
November 2023 |
0
Comments
Advantages of HDMI video capture cards
  The transmission of high-definition and high-quality uncompressed audio and video signals places increasing demands on network bandwidth. There are a variety of high-definition HDMI video capture cards with HDMI interfaces among high-definition streaming video capture cards.
  The HDMI interface can provide data transmission bandwidth of up to 5Gbps and can transmit uncompressed audio signals and high-resolution video signals. In addition to the advantages of synchronous acquisition and transmission of audio and video signals and high-bandwidth transmission, the HDMI interface also has several features: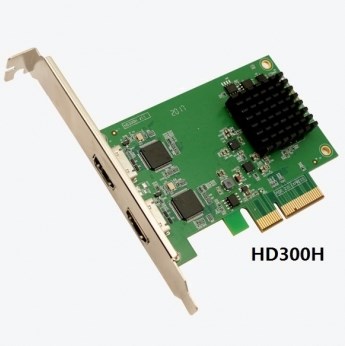 High-speed transmission bandwidth: high-speed PCI-E 1× high-speed interface, its bandwidth transmission speed is more than twice that of the PCI interface slot
  Multiple interface inputs: HDMI, 1080i analog component, S-Video and composite video input interfaces
  Supported capture formats: 1080 23.98 p/24 p/25 p/30 p/50i/59.94i/60i, 720 50p/59.94p/60p, NTSC/PAL, S-Video
  Video input can use PAL and NTSC formats
  High-quality audio and video synchronization: Strict requirements for accurate capture of each frame allow you to enjoy true digital video and audio capture and achieve perfect video and audio synchronization
  Low host CPU usage: real-time full-resolution high-definition uncompressed audio and video recording, freeing the CPU from video decompression work
  It has functions such as motion adaptive interlacing processing, digital scaling and line and field frequency changes, and has a variety of digital image and digital noise reduction technologies.
  Supports multiple cards in one machine, very suitable for stunt booths and professional fields
  High-resolution quality: HDMI is a high-definition digital interface that provides the best video quality since all analog connections (such as component video or S-video) require no loss when converting from analog to digital.
  Audio and video signal synchronization: Fully digital image and sound transmission interface, which can transmit uncompressed audio and video signals.
  Scalability and ease of use: HDMI integrates video and multi-channel audio in a single cable, eliminating the cost, complexity and confusion of the multiple cables used in current A/V systems. This is especially useful when upgrading or adding devices; with plug-and-play support, HDMI is fully backwards compatible with DVI-compatible devices.
  High intelligence: HDMI supports two-way communication between video sources (such as DVD players) and DTV, enabling new functions such as automatic configuration and one-click playback. By using HDMI, the device automatically transmits the most efficient format for the connected display (e.g. 480p vs 720p, 16:9 vs 4:3) — eliminating the need for consumers to scroll through all the format options to guess the best viewing format.
Leave a Reply
Your email address will not be published.Required fields are marked. *