By PURPLELEC |
09
October 2023 |
0
Comments
Intel releases Thunderbolt 5: faster, stronger and more extreme
  Intel releases the fifth generation of Thunderbolt interface - Thunderbolt 5, bringing a faster, stronger and more ultimate connection experience.
  Faster
  The two-way bandwidth of Thunderbolt 5 is twice that of Thunderbolt 4, reaching 80Gbps. With the bandwidth enhancement function (Bandwidth Boost), it can be flexibly adjusted according to usage, supporting video bandwidth up to 120Gbps, while PCIe data transmission is doubled.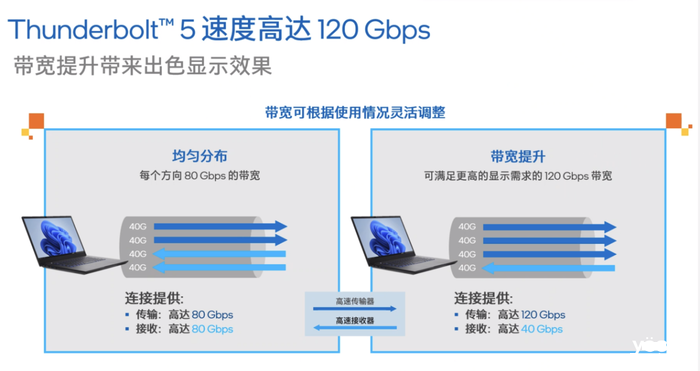 According to test results published by Intel, the sequential read and write speeds of external storage have reached 6200MB/s and 5300MB/s respectively. When performing Thunderbolt point-to-point networking (Thunderbolt Networking), the bandwidth is doubled compared to Thunderbolt 4, and the data transmission speed between PCs is faster and more efficient.
  Stronger
  With higher bandwidth, Thunderbolt 5 can support multiple 8K or three 4K@144Hz displays, and the FHD game screen refresh rate can reach 540Hz. In terms of scalability, you can also get a better experience when connecting an external graphics card (which can support the latest RTX 40 series graphics cards) or an external AI accelerator, improving the efficiency of tasks such as video creation and AI inference. to
  More extreme
  Thunderbolt 5 supports PD3.1 and has a charging power of up to 240W, which is significantly higher than the 100W of Thunderbolt 4. It not only allows more devices to be connected at the same time, but also allows high-performance PCs such as gaming notebooks and workstations to unlock a single cable to achieve a fully expanded new experience. . to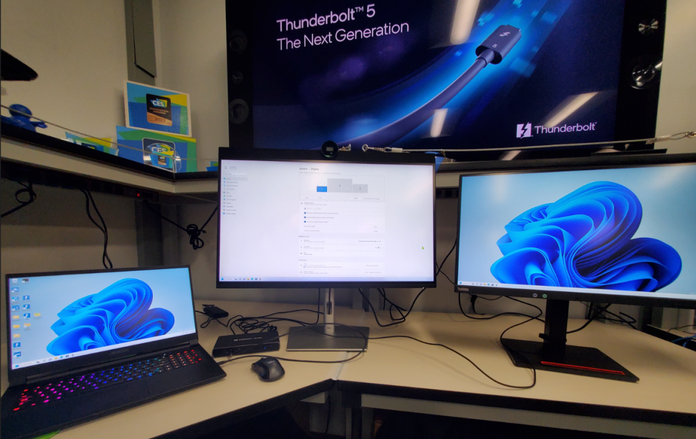 In terms of compatibility, Thunderbolt 5 supports industry standards including USB4 V2 and is fully compatible with the previous generation of Thunderbolt and previous versions of USB.
  Intel said that computers and accessories based on the Thunderbolt 5 controller (codenamed Barlow Ridge) are expected to be available in 2024, and plans to release technical information and development resources to Thunderbolt developers in the fourth quarter of this year.
Leave a Reply
Your email address will not be published.Required fields are marked. *