By PURPLELEC |
23
October 2023 |
0
Comments
Acasis Thunderbolt 3 mobile hdd enclosure review
  The Acasis Thunderbolt 3 hdd enclosure is packaged in a pull-out type. A physical picture of the product is printed on the front of the outer paper case. The model number of the product is FA-TB34 in the lower right corner. In addition, the most important features of the product are: Thunderbolt 3, NVMe, 2700MB/s and other signs are also in the lower left corner.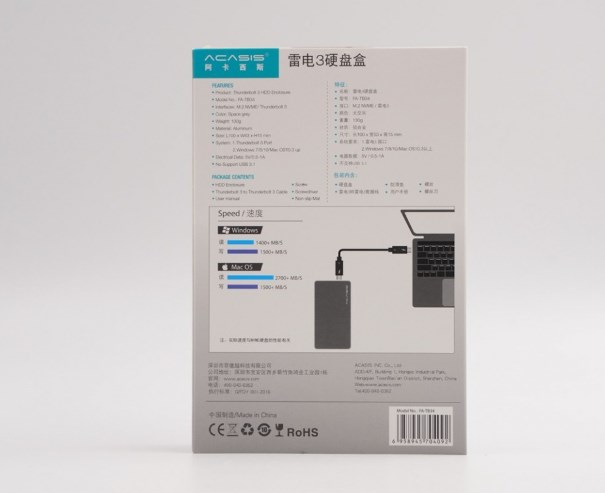 On the back of the package are some product introductions and parameters.
  Name: Thunderbolt 3 hdd enclosure
  Model: FA-TB34
  Interface: M.2 NVME/Thunderbolt 3
  Color: space gray
  Weight: 130g
  Material: aluminum alloy
  Size: 100*53*15mm
  System requirements: 1.Thunderbolt 3 interface
  2.Windows 7/8/10/Mac OS10.3 or above
  Electrical data: 5V/0.5-1A
  Speed under Windows system: read 1400+ MB/s, write 1500+ MB/s
  Speed under Mac OS system: read 2700+ MB/s, write 1500+ MB/s. Open the hard disk box, and there is a green PCB board inside. There is a sticker on the inner wall of the box with the model number, certification mark, barcode, etc. There is a strip of thermally conductive silicone on the back panel, which can not only help the hard drive conduct heat, but also fix the solid-state drive installed inside to avoid loosening and causing "internal injuries" such as bumps.
  The PCB owner's workmanship is meticulous, the parts are accurately mounted, and the Thunderbolt 3 logo is also printed on the upper right corner. The Akasis Thunderbolt 3 hard drive enclosure only provides one 2280-size screw hole. It should be noted that this hard drive enclosure is designed to match NVMe M.2 solid-state drives. Ordinary B-key SATA channel M.2 SSDs cannot be used. .
  The Samsung 970EVO 256GB solid state drive used in this test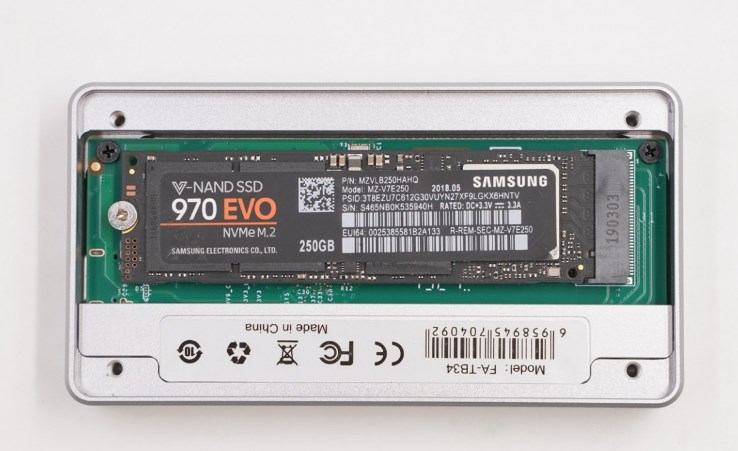 Use the Thunderbolt 3 interface on MacBook Pro to conduct this speed test.
  The actual measured writing speed can reach 1472.0MB/S, and the reading speed can reach 2329.0MB/S, reaching the maximum speed of hard disk reading and writing, which is almost the same as the speed of direct plugging into the computer. It also breaks through the speed of USB3.1 Gen2. Actual measurement It is a hdd enclosure for True Thunderbolt 3.
  The Acasis Thunderbolt 3 mobile hdd enclosure adopts a CNC aluminum alloy casing with excellent surface treatment, solid workmanship and exquisite appearance. The thermally conductive silicone pad provided inside helps heat transfer, provides support for long-term high-load work, and provides physical protection for the hard drive. In terms of performance, the hard disk box uses Thunderbolt 3 channels, with a maximum speed of 2700+ MB/s for reading and 1500+ MB/s for writing, which can unleash the true strength of high-performance solid-state drives.
Leave a Reply
Your email address will not be published.Required fields are marked. *