By PURPLELEC |
16
October 2023 |
0
Comments
Live broadcast equipment Greenlink 4K HDMI video capture card
  UGreen 4K HDMI video capture card supports 4K30Hz or 1080P120Hz capture and 4K60Hz loop out, and has external audio input and output functions.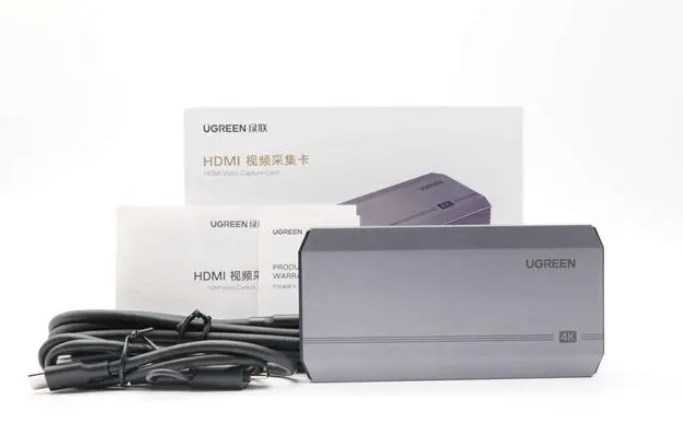 Product parameters
  Input: HDMI IN (4K@60Hz, 1080P@240Hz Max)
  Loop out: HDMI OUT (4K@60Hz Max)
  Capture: USB-C (4K@30Hz, 1080P@120Hz Max)
  USB-C interface: USB 3.0 standard, theoretical transmission rate up to 5Gbps;
  3.5mm audio interface: sampling rate 24bit 48kHz (Max)
  HDMI/USB-C interface: Sampling rate 24bit 48kHz (Max)
  Power supply interface: USB-C 5V/1A;
  This 4k HDMI video capture card from UGREEN adopts an aluminum alloy casing, which has good heat dissipation performance and is sturdy and durable. The capture card has two HDMI interfaces, supports 4K30Hz video capture and 4K60Hz loop-out, and supports external audio signal input and audio output monitoring. Connect the computer through the USB-C interface for video stream output, which can be used by devices with HDMI interfaces, such as computers, cameras, and hosts for live broadcast.
  This 4K capture card uses Lianyang chip solution for HDMI video reception and conversion, and Lingyun logic decoder for audio input and output functions. The internal HDMI female base is affixed with conductive cloth for grounding, and the PCB on the back of the chip has large-area via holes filled with tin for heat dissipation. The internal structure is compact, the workmanship is solid, and the aluminum alloy shell has excellent heat dissipation performance, ensuring reliable and stable operation for a long time.
Leave a Reply
Your email address will not be published.Required fields are marked. *